With leading joint technology partners and service providers in the industry, eSuria can provide you with the best-of-breed in I.C.T. solutions and services.
Oracle

eSuria has been an Oracle Gold Partner since April 2010.
Polycom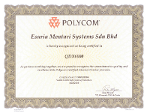 eSuria's results are driven by established key alliances partnering with leading technology and service providers in the industry.
Cisco Certified Premier Partner
Cisco is the Worldwide leader in networking.
eSuria is the only Cisco Premier Partner Certified in Brunei Darussalam with expertise in planning, designing, deploying and setting up secure network infrastructures. As such, eSuria can fully assure its customers that it has what it takes to deliver proven Cisco network knowledge and capacity.
Microsoft Silver Partner
Microsoft is also a Worldwide leader in best of breed software applications for the Home, Schools, Business, Client and Servers solutions.
eSuria is a Microsot's Silver Partner in Unified Communications, Portals and Collaboration. By achieving Microsoft Certification Status, eSuria can ensure successful projects delivered using Microsoft solutions knowledge capacity, support and development capabilities.
Sun iForce System Solution Provider Partner
Sun Microsystems has been the world's dominant technology platform in the converging online and full-service environment. eSuria has been working with Sun Microsystems since its early days. Since that time, eSuria has grown into a leader providing IT consultancy, solution design, implementation and support services derived from Sun Microsystems and other server solutions for organizations in the local market, Brunei Darussalam.
CheckPoint Authorised Value Added Solutions Providers
CheckPoint Software Technologies is the worldwide leader in both the worldwide VPN and firewall markets in securing the internet. Partnering with Check Point ensures consistent delivery of industry-leading support by maintaining thorough standards for CheckPoint product expertise and support capabilities. eSuria has the required CheckPoint Certified Security Administrators (CCSA) to ensure that each and every CheckPoint installation is implemented adhering to set standards.
Other Companies we have partnership agreements with, include:
RSA Security, Inc.
Networks Associates Technology, Inc.
Internet Security Systems, Inc. (ISS)
VERITAS Software Corporation
SurfControl plc
Juniper Networks
Trend Micro, Inc.
Symantec, Inc.
Thomas & Betts
Avaya Inc.
Netscout Systems, Inc.
Radware, Inc.
CTC Union Technologies Inc.